All Exams registrations are processed on a first come, first served basis. Candidates are encouraged to apply as early as possible as availability is limited.  Candidates may register for the next available exam only.
Please note that the NDAEB will no longer be holding Written Exams on Saturdays.  As such, our exam dates will typically now run from Wednesday through Friday.
Please read the Candidate Handbook before registering. After reviewing the Candidate Handbook please contact our office if you have any questions.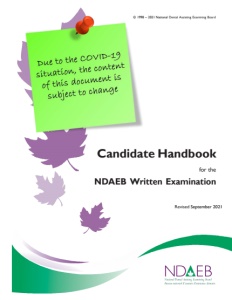 Registration Open
Registration opens Monday, September 25, 2023 at 10:00 a.m. Eastern Time
Application Deadline
Registration closes Friday, November 3, 2023 at 4:30 p.m. Eastern Time
Written Examination
Written Examinations will take place on Monday December 11, Tuesday December 12, and Wednesday December 13, 2023
Due to reasons beyond the NDAEB's control, exam dates are subject to change before or after an application deadline. If this occurs, registered candidates will be contacted. Please read the Candidate Handbook for more information.
We are no longer accepting paper applications; candidates must register online. 
International candidates must have been approved by the NDAEB Candidate Eligibility Assessment Committee (CEAC) before being allowed to register for an examination.
Documents required for a credential assessment must be received by the NDAEB office at least TWO (2) weeks prior to an exam application deadline. Documents received after this deadline will not be guaranteed assessment for exam eligibility for the applied sitting.
Exam Site Availability
As a result of the limited availability and scheduling purposes, your 1st choice selection for an examination site is not guaranteed. Exam locations are subject to change without notice. In the event your preferred location is no longer available, you may be required to schedule your exam offsite by online remote proctoring.
Candidate Handbook
When applying to write the NDAEB exam, please read the information on the exam application and in the Candidate Handbook carefully. Details regarding all aspects of exam administration, including application processing, exam preparation and post exam administrative details are available in the Candidate Handbook.

Note: Due to the COVID 19 situation, the Candidate Handbook content is subject to change.
Privacy Policy
The National Dental Assisting Examining Board complies with the Personal Information Protection and Electronic Documents Act (PIPEDA). Please be sure to read the Privacy Policy.