Clinical Practice Evaluations
The NDAEB developed a Clinical Practice Evaluation (CPE) for use by Canadian Dental Assisting Regulatory Authorities (CDARA) in the licensing/registration of dental assistants. For more information, see the CPE Candidate Handbook.
Some CDARA require graduates of Canadian non-accredited and out-of-country educational programs to successfully complete a two-part NDAEB certificate to include the written examination followed by the CPE. To confirm the requirement for the CPE in your province, please refer to the Registration & Licensure section of this website for CDARA contact information.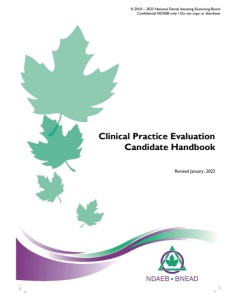 Photographs of instrument and supply tray setups are also available on this site. The photos represent generic setups. All evaluation sites may not provide exact instrument and supply items as shown in the photos. Some items may be substituted for similar instruments or materials.
Clinical Practice Evaluation Sites
The NDAEB administers the Clinical Practice Evaluation at up to nine sites across Canada three or four times annually, depending on demand. For CPE sessions and application deadline dates, please see the CPE Schedule on this site.
The fee for the full CPE session (9 skills) is $1785.00 made payable to the NDAEB. This includes the non-refundable $100 application fee. The fee for re-taking individual skills is $365 per skill plus a non-refundable $100 application fee. Candidates registering for 5 or more skills are required to pay the full fee of $1785.
The Clinical Practice Evaluation includes the following nine (9) skills:
The National Dental Assisting Examining Board ensures that clinical evaluators receive standardized training through a process known as calibration. Calibration occurs prior to every Clinical Practice Evaluation session.
The purpose of Calibration is to determine the amount of deviation from the standard that will still be considered acceptable. Calibration is designed to improve inter-rater reliability which is defined as "the ability for multiple evaluators to understand and apply a set of criterion in the same way" (ADEA Washington, DC, 2000)
CPE Schedules
CPE Schedules are subject to change. Candidates are responsible for fully reading all e-mail correspondence and documentation posted to the Candidate Portal. Failure to do so may result in a missed session and fees will be assessed.
CPE Site Capacity and Availability
Availability and capacity are limited so register early! Registration for the CPE is on a first-come, first-served basis. Each site can only take a limited number of candidates. Once the maximum number of registrants is received, the site will be closed. In very rare circumstances may registrations be placed on a wait list.
COVID-19 Vaccination Requirements
The NDAEB believes that the health and safety of our candidates and staff across Canada comes first. As Covid-19 restrictions and guidelines continue to change, and in keeping with current local and/or national health officials, under great consideration, NDAEB has temporarily suspended Covid-19 vaccination requirements. While NDAEB will continue to support full vaccinations, candidates will not be required to show proof of status in order to be registered for the CPE. Please be advised, this is subject to change pending direction of local and/or national health officials. Candidates will be notified if there are any changes.